Gardening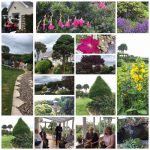 Convenor: Evelyn Service
Day/Time: 2nd Monday of the month, 10:30am – 12:30am
Venue: varying locations.
It is proposed that after each meeting, a short report with photographs will be posted. These are presented at the bottom of the page.
The Gardening Group has endeavoured to remain active since small outdoor groups were allowed as per the restrictions.
We have met at the picnic tables at Hazelbank, to exchange plants, socially distanced of course.
We have met outside at David Nesbit's barn to share plants and cuttings and try to plan meetings as per government restrictions. At any meetings where we share plants etc these are left on the ground in the centre of the venue and members can singly choose what they wish.
More recently we have met in the Glasshouse Cafe in Carrickfergus ,where staff arrange several large tables for us. This is a large ,high and open area. We have held several meeting there to try to plan future meetings, we also have had a fun garden quiz there.
Programme February 2022 to June 2022
Month Venue Items
| | | |
| --- | --- | --- |
| 14th February 2022 | Rowallen Gardens to visit the snowdrop walk . | |
| 14th March 2022 | Marion Mehaffey's home (outside) To share and plant seeds | |
| 11th April 2022 | Talk and/or a visit (to be finalised. ) | |
| 9th May 2022 | Share seedlings venue to be arranged ,plans for Autumn and Spring 2023. | |
| 13th June 2022 | A visit to a special garden and lunch. | |
| | | |
| | | |
Click to enlarge any photo.
---
Gardening Reports