East Antrim U3A
We are a charity, a friendly self-help organisation for people no longer in full time employment, providing educational, creative and leisure opportunities in a friendly environment.
Re-Opening of Nelson Street on 4th October
Further Details can be found by clicking the link below.
**** URGENT ****
Could you please send all completed applications either by (scanned) email or post directly to
Teresa Connor, 22 Regent Avenue, Carrickfergus. BT38 7TY
Our postbox was vandalised a while ago and we've nowhere for post to be delivered at Nelson Street.
Please note that a link to a pdf of the latest application form is available below.
Membership-Application-Form

** Nelson Street Closed from 13/3/2020 as a precautionary measure due to Coronavirus **
Monthly Meeting
To accommodate all our members, we meet in Joymount Church Hall, by Carrickfergus Library on the 3rd Monday monthly.
PLEASE NOTE:
All meetings suspended until further notice due to the current Coronavirus situation.
University of the Third Age is an international movement whose aims are the education and stimulation of mainly retired members of the community. —those in their third 'age' of life. It is commonly referred to as U3A.
In the United Kingdom it is recognised that most people of retirement age have something to contribute and the emphasis has been on sharing, without formal links to traditional universities.
U3A membership is not related to a specific age but to a period in one's life (the third age) after the second age of full-time employment and parental responsibility. Anybody in their third age can join U3A and this includes people who are working part-time. There is no lower age for membership."
More information can be found on our About Us page.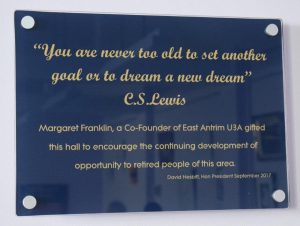 Locally we have over three dozen interest groups, each of them having their own group page listed here.
Please feel free to explore our site and if you have any questions please contact the office by email or phone 028 9336 1110
We have a monthly meeting, at Joymount Hall (Behind Carrickfergus library) on the third Monday of each month from 2.00-4.00, where about a third of the membership meet, have a chat, listen to an interesting guest speaker, have a cup of tea or coffee and hear news of any developments and group activities. Pop along unannounced as a visitor and see if you like us well enough to become a member. If you already know about us, then you can download a Membership-Application-Form, print, complete and send it or bring it to the office.
The annual membership fee is only £24 (reducing quarterly as the year progresses), though inevitably further costs will occur for some individual activities where we have to employ an outside tutor, but most activities are free of charge. All organised activities are fully insured.