Gardening 01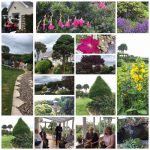 Convenor: Maureen Koelmeyer Mob:07985390619
Day/Time: 2nd Monday of the month, 10:30am – 12:30am at varying locations.
2018 Diary (March to August)
12 March The gardening group met at Marion's home where the annual sowing of seeds took place.
9 April Sixteen members met at Colmans Garden Centre. It was a most successful morning that everyone enjoyed.
23 April We were invited to attend BBC Gardeners Corner Roadshow.
Six members of the Garden Group attended this event in Glenarm Castle.
14 May Margaret Franklin's home. Sharing out seedlings that were planted in March.
11 June Helping Margaret to prepare for her "At Home" weekend.
16 & 17 June June Margaret's "At Home Weekend"
9 July Annual Lunch in the garden at Margaret's home.
13 Aug Margaret Franklin's house.
---
Some Short Reports in Date Order
---
---
23 April 2018 – Gardeners on Radio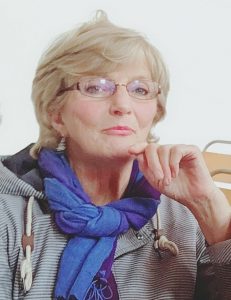 Our gardening group took part in Gardeners Corner Question Time which was recorded in Glenarm castle on Monday the 23rd. Many of the questions which we were submitted by us were selected for transmission and were asked by members of the group. This edition of Gardeners corner will be transmitted on Saturday the 28th at 9 a.m. on Radio Ulster
Those of us who attended really enjoyed the experience, the wonderful tulip display, and of course the equally wonderful Teahouse!
P.S. this is our second time taking part in gardeners-corner on Radio Ulster!
Maureen Koelmyre
---
---
14 May 2018 – Margaret's Garden
Eleven members of the gardening group met at Margaret's home today to share some seedlings that were sown in March. There was also a range of plants to share: parsley, courgette, aquilegia, forget me not ,stock ,nasturtiums and many more.
We were outside soaking up what heat there was from the sun and enjoying our coffee with apple cream scones and rhubarb slices made by David.
Marion Mahaffey Pictures by Anita Yeung For Upcoming Events see the Gardening Group page.
---
---
11 June Preparation for Fund Raiser at Margaret's
The Gardening Group held a very successful meeting to day.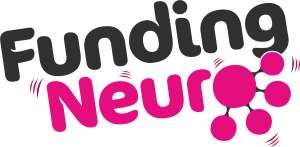 We met in Margaret's home and all helped with final preparations of the garden for the open days between 2pm -5pm on sat 16th and Sun 17th June. Tea and coffee and light refreshments will be served.
We are hoping for good weather, but , in any event the garden is wonderful, as are the views from Margaret's home.
Please join us for an enjoyable afternoon and help raise some funds for Funding Neuro, a charity which East Antrim U3A has been supporting for some years.
We also went though the forms returned from the Gardening Quiz and our winner is …..Doris Nugent.
Doris is not a member of the Group,but she is obviously a knowledgeable gardener and was delighted to hear that she has won. We will take her with us to visit Kilcoan garden centre and nursey in September and then for lunch. (If anybody is interested,the correct answers to the Quiz will be on the notice board in Nelson Street.)
Maureen Koelmeyer
---
---
Sat 16 & Sun 17 June Margaret's "At Home Weekend" A great Success.
In spite of inclement weather there was a good attendance on both afternoons. The garden was looking well with special notice given to the Abutilons and the abundance of fruit and vegetables. Storm "Hector" had left its mark earlier in the week. The gardening group had spent the last meeting as a 'hands on' time dealing with the weeds!
Tea was served in and around the garage. David's scones with apple and cream being the chief delight.
To date, the total raised for our charity "Funding Neuro" was over £1,200 but donations are still coming in.
Report by Margaret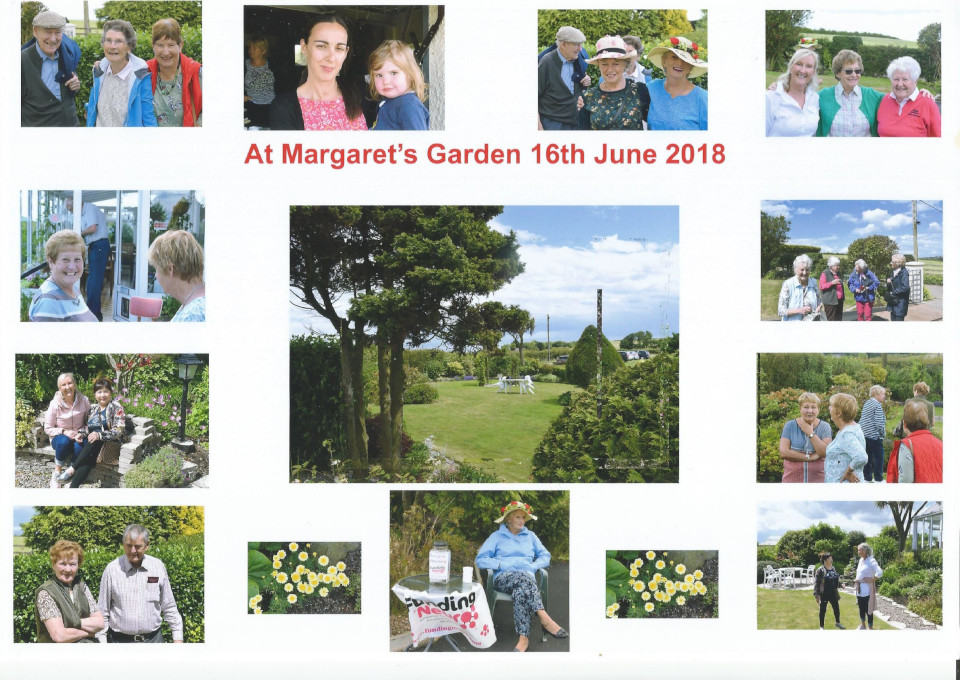 ---
---
9 July Annual Lunch Report
On the 9th of July the gardening group ended their successful year with a picnic lunch in Margaret's beautiful garden. Guests and the gardening group members thoroughly enjoyed a lovely lunch as the sun shone brightly for the entire afternoon.
Members are now looking forward to meeting again in September for the start of their 2018-2019 programme of events.
Anne Bodles
---
---
13th August in Margaret Franklin's house.
Our Gardening Group met this morning. There were many apologies because summer, and family commitments, are not over yet.
We were all so pleased to meet up, and enjoyed David's excellent blackcurrant pie and apple flan. He sets an impossibly high standard for us, so its a let down when it comes to the usual digestive biscuit!
One of our of members, Ann Bodles, very generously shared some of the produce from her allotment. your apples are delicious Anne.!
Margaret's garden is looking wonderful as the photos testify ,and once again beautiful fragrant sweet pea and cuttings generously given.
The real business of the meeting was very productive, with plans for the next 6/7 months decided, and various suggestions for potential fund raising agreed.
We discovered that one of our members is an experienced flower arranger who is very willing to share her talents at one of our future meetings. Look forward to some great photos of this.
Our next meeting is in Kilcoan garden centre on the 10th Sept where we will meet Doris Nugent,the winner of the Gardening Quiz held earlier in the year. Lunch later in the Bentra,
Hear's to another year of learning, laughter, and friendship in our gardening group.
Maureen Koelmeyer
---