Visit to Palm House and Ravine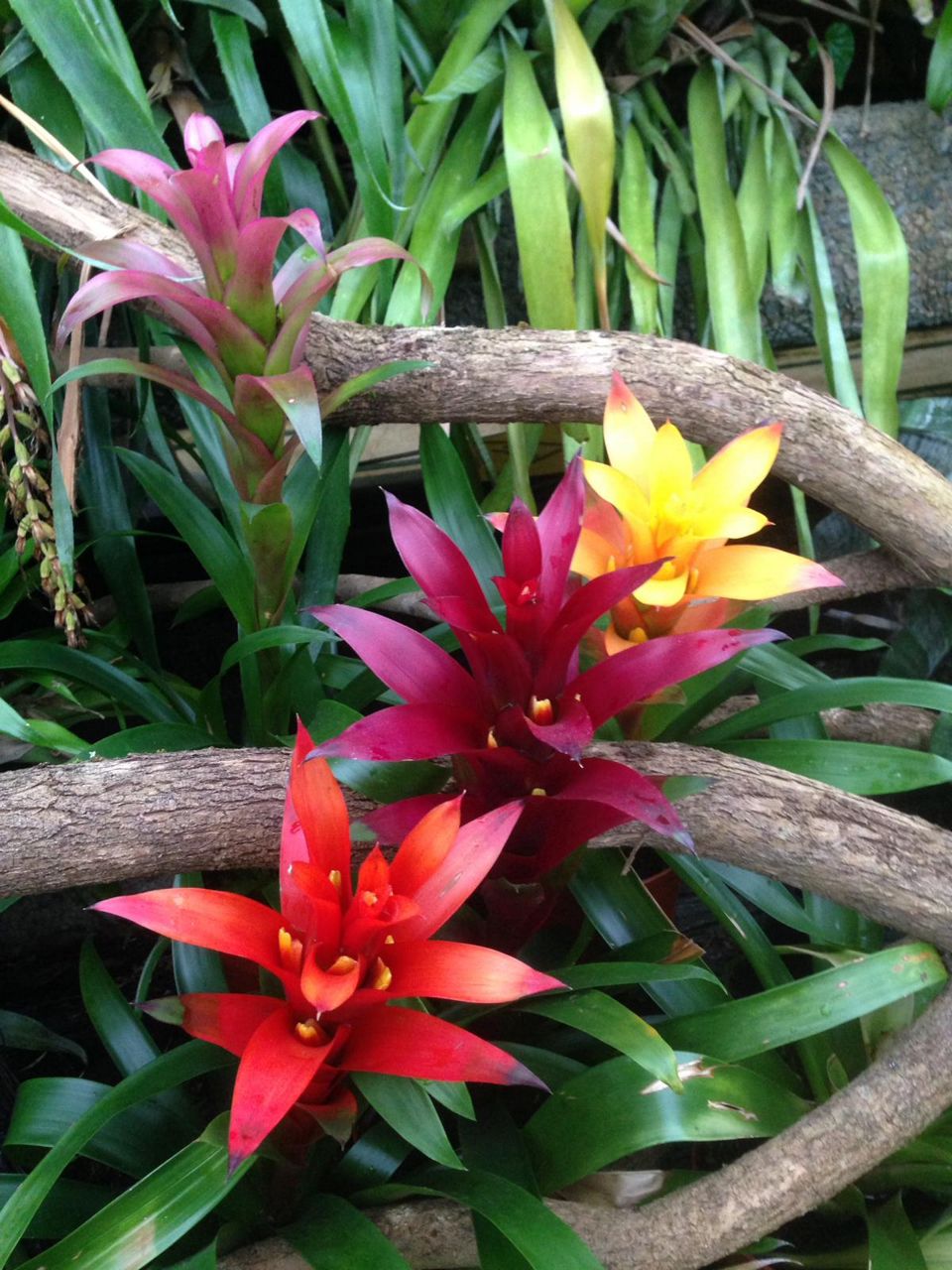 November 2018
Members of the gardening group went on the 14th of November for a guided tour of the Palm House and Ravine in botanic gardens.
We all went by train and met at Botanic station to firstly have a very civilised cup of coffee and then make our way up to meet our guides at the Palm House.
We had two young and very enthusiastic guides who are at the start of their careers. Chloe Rice who has a special interest in architectural history took us round the Palm House. She told us that the Palm House was designed by Sir Charles Lanyon who was one of the most prominent and influential Architects of the Victorian era. Just for reference he also designed Queen's University Sinclair Seamen's church and Crumlin Road Gaol and courthouse.
The Palm House would have been a great wonder at that time because it was one of the earliest examples of a curvilinear cast iron glass house.
It was the crowning jewel within the Botanical Gardens. At that time which was 1839 most houses had very tiny windows therefore light was dim and the Interiors were dark. Even great houses had some Windows blocked up because every single window was taxed.
The Palm House was built by Richard Turner from Dublin but he left the construction because he was not paid. Richard Turner went on to build the great Palm House in Kew Gardens and also the Palm House in the botanical gardens in Belfast. Dublin was therefor the first place to have a glass Palm House of this construction and size. At that time 1840 it was a private garden only for the members of the Botanical Society in Belfast. Non-members could only visit on a Sunday, and only if they had permission from a member of that Society. They weren't allowed to bring any food so no picnics for them! It really was a place for a very privileged elite in Belfast society at that time. It wasn't until 1895 that Belfast corporation bought the gardens and opened it to the public.
The greenhouses next through the Palm House have a wonderful display of plants at the moment. There are many vibrantly coloured bromeliads which vary greatly in size and formation and some recognisable houseplants. These house plants such as the peace lily and anthurium are huge compared to those we have in our sitting rooms because of the ideal conditions in which they grow.
In another greenhouse there was a vast display of varied and wonderfully coloured coleus together with the very large and Old Vine which grew high on the greenhouse wall. Chloe told us that despite the height at which this vine is placed the crop is usually harvested by human visitors not birds!
We made our way to the tropical ravine which was reopened a couple of years ago after a major renovation funded by Belfast Heritage Lottery. It was originally built in 1887 and at that time it was a fernery. Apparently ferns were extremely popular at that time because they grow well in dim and dark conditions which suited the interior of dwellings the at the time. The Ravine was then a natural glen and the waterfall was powered by an actual stream.
Charles Mckim was the head gardener in the Botanic Gardens at that time and there is a blue plaque to him at the entrance to the ravine.
We were given a tour of the ravine by Lewis Patton who has a special interest in plants, particularly those of the tropical ravine. It was wonderful to walk down into the ravine when the plants were being misted, because it really felt like being in a damp and humid jungle. As one member said she always wanted to visit the Amazon! The Banana Tree had a good crop on it but no fruits on their papaya or star fruit trees. Lewis said that he would love to develop a small section of medicinal tropical plants so that people could understand how they are used locally in their regions. It would also be interesting to revisit at different times of the year when other plants such as the hibiscus would be flowering or the New Zealand Christmas Tree which is due to come out very soon. Apparently the flowers on this tree are like a hydrangea!
Both of these young people are super enthusiastic about their work and would be very happy to visit our local group in Carrickfergus to tell the membership about their work and the development of the Palm House and Ravine in Botanical Gardens.
Another interesting and enjoyable outing for the gardening group in good company.
Roll on the 10th of December when we hope to be making our table centres for the Christmas lunch tables..
Best wishes to you all then.
Maureen