Summer18 Reports
Summer Workshop reports presented in alphabetical order.
To avoid repetition in each report:-
1. Please feel free to Email James with any comments or photos you would like to add.
2. Click on any photo to see a larger version.
3. Report any errors you find.
Bridge Calligraphy Canoeing Colour Pencil Family History French Irish Italian Spanish Spinning and Weaving Wet Felting

---
Bridge
A few images from the afternoon session.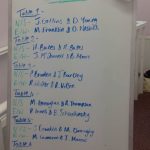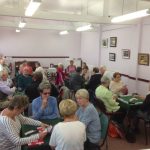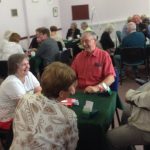 ---
Calligraphy
I really enjoyed this workshop and am looking forward to spending time trying to perfect my calligraphy. Karen is a really helpful tutor and the day went by too quickly.
Elsa Bowen
++++++++
I had indulged in calligraphy endeavours a long very long time ago, so I dug out my old equipment and my books. Like eight other people who attended I had a most enjoyable and instructive day. We worked at a steady pace, learning and practising Italic Script followed by a short session in Gothic. After lunch our projects were embarked upon. Each of us picked a short portion of text, practised writing it, designed a layout and finally committed it to paper to produce a finished project. I for one was exhausted at the end of it. Despite being beginners several of our number end up as proud owners of very acceptable pieces.
James Carroll
++++++++
I have been really enjoying our Summer Workshops and broadening my horizons this year.
I attended the Thursday Calligraphy workshop with Karen Shaw and was surprised how much I picked up in one day. As I have said before, Karen is a wonderfully patient and helpful tutor who encourages everyone to have a go.
After purchasing the pens needed for Calligraphy I intend to go ahead and try it out at home.
Really enjoying the workshops and want to thank everyone who gave of their time to make them such a success.
Ann McClinton
++++++++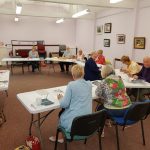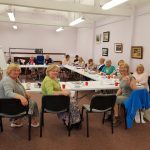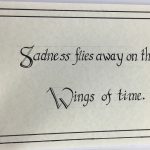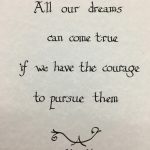 Please note that the projects are not completely finished as the layout lines need to be removed.
---
Canoeing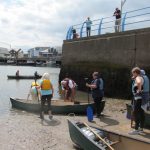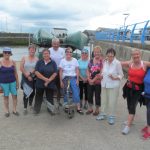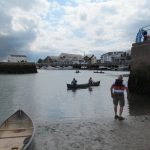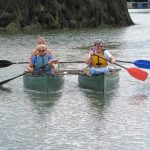 ---
Colour Pencil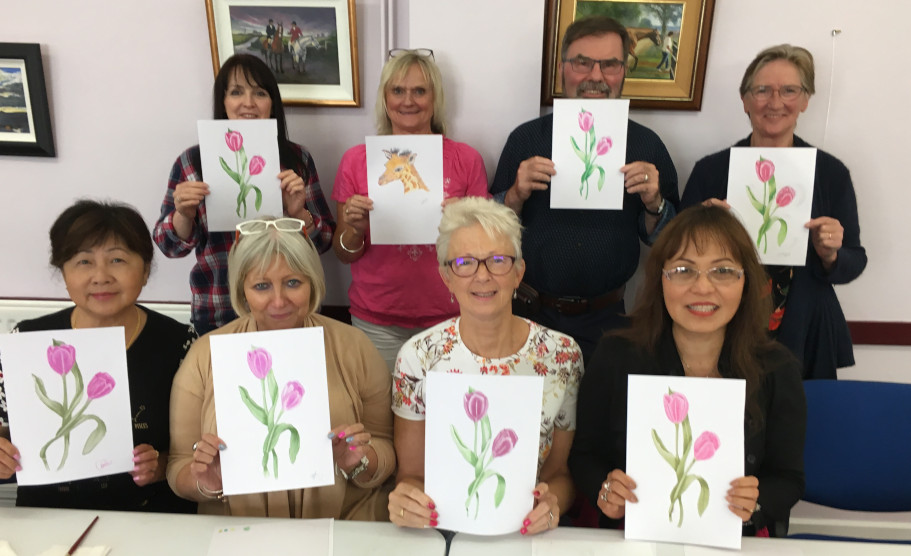 ++++++++++
Fun & Relax experiences at Karen Shaw's Pencil Drawing Summer '18 workshop,
A brilliant way to learn new skills, paint blending techniques etc.. we all happily brought the tulips home.
Some members successfully drew and painted Dinosaur & Giraffe by the end of the day.
I think, I will go on to attend further lesson
Anita Yeung
++++++++++
I attended the pencil art workshop on Friday 20th August a bundle of nerves as I am not terribly artistic. However, Karen Shaw our Tutor made us all feel at home and assured us we would all come out with a piece of artwork at the end which to my amazement we all did. Karen is a great tutor with heaps of patience. She went from table to table helping and advising us in the creation of our masterpieces. I enjoyed the workshop so much that I am now going to join the pencil art group in August.
Ann McClinton.
++++++++++
I had acquired various sets of coloured pencils over the years but had no idea how to use them, so Karen Shaw's workshop seemed a great way to find out. Still, I almost chickened out, on the excuse that my pencils are watercolour-based whereas Karen's are oil-based, but really because I had no confidence that I would be able to draw. I am so glad that Karen persuaded me to come along and have a go. Karen is a great teacher and showed us how to draw with the pencils. It didn't matter that mine were watercolour pencils as the drawing technique was the same. It was just the blending at the end that was different and Karen showed me how to use water to do this. I ended up with a picture of tulips I am really pleased with and the confidence to draw more. Many thanks Karen for a great day.
Simon Eccles
++++++++++
We were a group of eight, all with different abilities. I had never drawn before but at the end of the day I was totally blown away with what I had achieved. The whole day was so relaxing and frankly therapeutic. Thanks Karen and all the group for making it a really great day.
Ann Beggs.
---
Family History
David Nicholl very kindly made himself available to give one to one guidance for those interested in tracing their genealogy.
Here are a few photographs taken at one of the sessions. David made a large display of helpful forms and books on the subject. He is talking to Vera McKee.
---
French
Thank you to Arlette, Ian and Karen for a fabulous day. I learned a lot; ate like a king and met lovely people. What a lot of TLC went into the preparation.
Brenda Malone
++++++++++
This was a most enjoyable day. good food, good companionship, good fun and best of all I improved my french a little. That was not too hard to do since I am just starting again, not having studied french since leaving school 50 years ago. I really appreciate all the hard work put in by the three named above and also to those who volunteered to take part in the role play.
James Carroll
++++++++++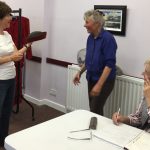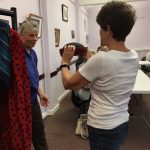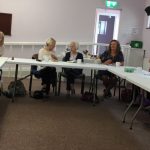 Role play in a clothing shop and other attendees.
Pictures by Karen Shaw
---
Irish day
The time was divided into three sections.
In the first section, Nial MacLochlain presented a very absorbing introduction to Irish place names. What might have been a rather dry subject was enlivened as Niall described how the original Irish names were very descriptive. However over time, human intervention – like cutting down trees – has made some of them less so.
The Anglicisation of names has added further complication. Some examples spoken in modern English that seem far removed from the original, would have been much closer in the old English pronunciation.
Irish Storytelling with Liz Weir Story Teller, followed on. Liz told a couple of Irish stories but broadened her subject with some modern anecdotes. She encouraged us to remember our younger days and to share those experiences with our descendants, thus keeping storytelling alive and at the same time preserving modern social history.
The day was rounded off with Irish Fiddle Music played by Michael Rodgers. He introduced himself by telling a fascinating story of how he obtained his fiddle. Michael then entertained us with several styles of fiddle music. We were encouraged to sing along with the last two or three times.
The day was both educational and entertaining. I for one had a great time.
James Carroll.



---
Italian
I have been really enjoying our Summer Workshops and broadening my horizons this year.
I attended the Italy day with Annabella and her daughter Loiri ably assisted by Leroy
We had a great day learning phrases. gestures (maybe some we wouldn't be able to use as they might get us into trouble.) and bingo for which prizes were given. In the end I seemed to still need most numbers – not lucky.
We broke for lunch about 1 p.m. Annabella had made Parmiggiana (fried uabergines in a tomato, cheese and egg sauce) which was absolutely beautiful. In fact I pigged out and had two helpings. For afters we had coffee and home made Tiramisu, also a few glasses of wine which helped us to speak more fluent Italian for the afternoon session.
Thanks to Annabella and Loiri for a very good day.
Ann McClinton
++++++++
This is Holiday Italian in progress and the two tutors, Annabella Noviello and Loiri Moreo making Italian coffee.
Teresa Connor
++++++++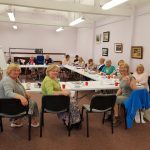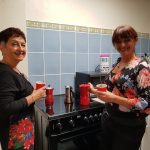 ---
Spanish
It was a light-hearted, fun experience with plenty of laughter. 'Alicantina' Encarnita explained and demonstrated some aspects of Spanish culture as well as preparing 'almuerzo' (brunch) for us complete with croissants and hot chocolate. We also enjoyed her special East Antrim style sangria.
We learnt some useful restaurant vocabulary, including how to make a complaint.
The session finished with lunch at Il Castello in Carrickfergus which enabled the students from the Improvers and Beginners classes to become acquainted.
Thanks to Encarnita and everyone else whose efforts made it possible.
Ian Donaldson
++++++++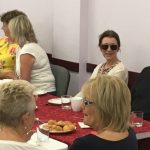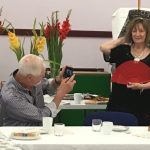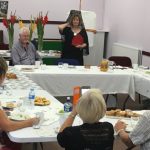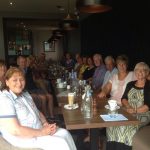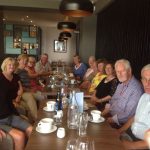 ---
Spinning and Weaving
Tina Enlander, an EAU3A member is a creative textile artist. She led two workshops in spinning and weaving with each student ending the day with a finished project.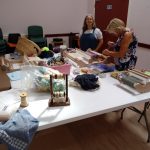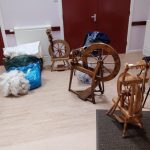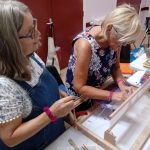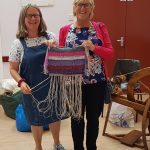 Good teacher with proud student and finished work.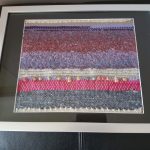 ---
Wet Felting
Ladies hard at work under the expert tuition of Annabella. (Photos by Teresa Connor)