Reading & Poetry
Convenor: Ann McClinton Email : annmcclinton@hotmail.co.uk
We meet on the 2nd Tuesday in each month 11:00am – 12:30pm
Meeting minutes 12th November 2019
Wonderful time sharing book 1984 , Animal Farm by Geroge Orwell .
Coming program:
December 2019 meeting
Pleas note that this meeting has been postponed until January.
January 2020
Book discussion Circling the sun by Paula Mclain
February 2020
Book discussion Thousand splendid suns by Khaled Hossenini
Looking forward seeing you all and New members are welcome.
New members welcome.
---
Some members of the reading group take a break to enjoy a cuppa while discussing "The Children Act by Ian McEwan" – the chosen book for the month.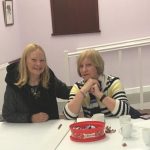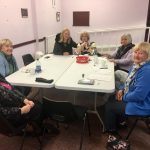 Pictures by Anita Yeung. She comments "The Reading group has a wonderful time of chats and discussion , although we had a smaller group of members on that day than is usual for us."
Click thumbnail to view at larger size.
Some members of the reading group, and friends, with guest author Marie Therese Rogers Molony who spoke to a very receptive audience at the reading group March 2019 meeting.